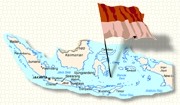 GEOGRAPHY & CLIMATE:
The world's largest archipelago, Indonesia's myriad islands stretch 3,107 miles eastward across the Pacific, from the Malay Peninsula to New Guinea. There are 13,677 islands in all. The main islands of Sumatra, Java, Kalimantan, Irian Jaya and Sulawesi are mountainous, volcanic and densely forested. The total population of Indonesia is 198 million. The climate in Sumatra is equatorial, hot and humid throughout the year. The rainy season is from November until February.
COFFEE BACKGROUND:
The Arabica coffee was brought in from Africa around 1696 and has been commercially cultivated until today. Sumatra is now the biggest Robusta coffee producer in the world and 3rd coffee producer overall.
SPECIES: Arabica
ALTITUDE AT WHICH GROWN: 3,500 - 6,500 ft
PREPARATION METHOD: "Unwashed"
ANNUAL PRODUCTION: 5 million bags (97/98 crop)
SHIPMENT PERIOD: All year round
TYPES OF COFFEES OFFERED:
Dp. Sumatra Mandheling Grade 1: This coffee is grown in the Ache province, North Sumatra. These coffees have a slight herbal aroma, very heavy body and are low in acidity.
Personal Comments:
9/15/98:
Sumatras are among the most challenging coffees to buy due to such high quality variation from shipment to shipment. We have finally found a reliable shipper and have been receiving fairly consistent deliveries.