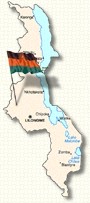 GEOGRAPHY & CLIMATE:
The country is located in Central Africa and covers an area of 45,747 sq. miles and has a population of 11 million. Climatically, the rainy season is from November to April.
COFFEE BACKGROUND:
Coffee cultivation started in 1878 but after a steady development to 20,000 bags in 1897. Then, as a result of leaf rust, the farmers started growing tea. Coffee was re-introduced in the early 1970's and the expected goal is to increase production to 100,000 bags by 2002.
SPECIES: Arabica
ALTITUDE AT WHICH GROWN: 2,000 to 3,500 ft
PEPARATION METHOD: "Washed"
ANNUAL PRODUCTION: 59,000 bags (99-00 crop)
SHIPMENT PERIOD: July - March
TYPES OF COFFEES TO BE OFFERED:
G1 Malunga (Screen 17/18)
G1 Salimba ( " " )
G1 Nantipwili ( " " )
G2 Salimba ( " 15/16 )
G2 Nantipwili ( " " )
Personal Comment:
9/23/98
We have imported this coffee in the past but the quality was not consistent. However, in July this year, we met there and negotiated with the largest exporter of this coffee to bring some their fine coffees into the United States. We are waiting for a new-crop coffee samples and will then decide on the types that we will import on a more regular basis.