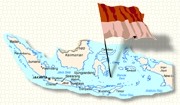 GEOGRAPHY & CLIMATE:
Java is situated in Asia - south of Malaysia and north of Australia. It is part of the small Sunda Islands, and has an equatorial climate and natural volcanic soil. The population of Java is 110 million and is the most densely populated islands in the world
COFFEE BACKGROUND:
The arabica coffee plant was brought to Indonesia around 1696 and has been commercially cultivated until today. The Government body, the PTP XXVI Plantation, grows about 85% of the coffee in East Java, close to Bali on the Itjen Heights. There are four main Estates - Jampit, Pancur, Blawan and Kayumas. The rest of the coffee is produced by private exporters and some of these Estates are Kalibendo, Gunung Mas, Mayang Sari, Ayer Dingin etc.
SPECIES: Arabica
ALTITUDE AT WHICH GROWN: 3,000 - 6,000 FT
PREPARATION METHOD: "Washed"
ANNUAL PRODUCTION: During a normal year, The PTP produces around 60,000 bags but this year it will produce only 12,500 bags. The private Estates normally produce 10,000 bags but this year are expected to produce only 3,500 bags.
SHIPMENT PERIOD: July - February
TYPES OF COFFEES OFFERED:
Java Estate Jampit 1 Plus: Grown in East Java, it is the best and most consistent Java coffee from the four Estates produced by the reliable PTP. It has a medium acidity with exceptional full-body and smooth flavor.
Personal Comments: 9/15/98
El Nino played a major role in lower production as it was too dry during the flowering season. Political and economical upheaval has created havoc and prices of all necessities have shot up as the currency has just plummeted. People started to steal coffee and other goods like sugar, rubber, cocoa etc. PTP's initial forecast was 25,000 bags but may have lost 15,000 bags to theft.