GEOGRAPHY & CLIMATE:
Guatemala is situated to the East and South of Mexico, to the West of Belize and to the Northwest of Honduras and El Salvador. It is the largest (41,865 sq. miles) and the most populous (11.7 million) of the countries in Central America. It faces both the Pacific and Atlantic Oceans. The climate varies with altitude. Daytime temperatures average 82 degrees F. in the tropical coastal regions and 68 degrees F. in the more temperate central highlands.
COFFEE BACKGROUND: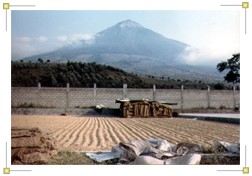 The first coffee trees were introduced by the Jesuit in 1750 but it was not until 1860 when the Germans immigrated that they started to cultivate it. Partly due to this, the Guatemala coffees have always been more popular in Europe that other origins of Central America. The coffees are nowadays grown in different regions and because of their individual geographical conditions, they produce their own unique flavors. The most well known centers are Antigua, Atitlan, Coban and Huehuetenango.

SPECIES: Arabica
ALTITUDE AT WHICH GROWN: 2,000 FT - 5,000 FT
PREPARATION METHOD: "Washed"
ANNUAL PRODUCTION: 4,940,000 bags (99-00 crop)
SHIPMENT PERIOD: October - May
TYPES OF COFFEES OFFERED:
Guatemala SHB Huehuetenango Plus: Grown in the west highlands, this coffee is the best Guatemala has to offer. It is the most complete & balanced flavor, fine acidity and medium body.
Personal Comments:
9/20/98: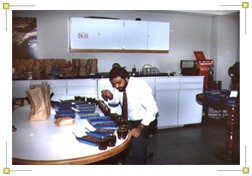 Since my last visit, it is becoming very difficult to buy quality coffees. "Genuine" Antigua are becoming scarce as unscrupulous farmers dilute the name by bringing coffee from other regions and calling them Genuine Antiguas. Others are trying to sell Antigua "Types". We have seen gradual decline in overall qualities from Guatemala recently. There was a fairly decent crop in 97/98, however the next years crop could be lower due to the severe draught which has caused the land to be so dry and cause huge brush and forest fires along with the Mexican border.