GEOGRAPHY & CLIMATE:
Located in Central America, Costa Rica is situated between Nicaragua and Panama and its coast stretches between two oceans, the Atlantic (Caribbean Sea) and the Pacific. The Atlantic coast has heavy rainfall, while the Pacific coast is much drier. The central uplands are temperate. The population is 3.5 million.
COFFEE BACKGROUND: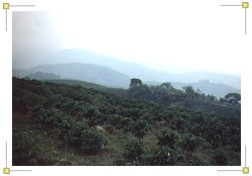 The first coffee trees were introduced from Cuba in 1779. Today, most of the coffee is grown in the mountainous regions of the Central valley and along the Atlantic and the Pacific slopes. The government recently has
introduced environmental regulations which has helped to reduce the water pollution and improve the overall coffee milling process. And this has led to direct improvement in the quality of coffee coming out from Costa Rica.
SPECIES: Arabica
ALTITUDE AT WHICH GROWN: 2,500 - 5,000 ft.
PREPARATION METHOD: "Washed"
ANNUAL PRODUCTION: 2,760,000 bags (99-00 crop)
SHIPMENT PERIOD: November - June
TYPES OF COFFEE OFFERED:
Costa Rica SHB Euro Plus: Grown in the Tres Rios area on the fertile mountainous slopes towards the Pacific coast, this coffee is one of the finest from Costa Rica. It has a very bright sweet flavor with good body and lively acidity.
Personal Comments:
9/20/98:
Costa Rica was the first Central or South American country I visited since coming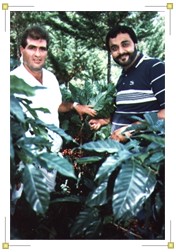 to America. This was also my first experience in learning about coffees other than from East Africa and as a result it has left a lasting fond memories. The year was 1985 and coming straight from Africa, I was not sure what to expect in another third world country from another continent. I was just knocked out. I could not believe that this country had no army and 85% of its population was literate. The coffee growing and milling processes were so sophisticated and when I had started to cup some of the coffees there, I was convinced that there were other fine coffees besides the East Africans. I had always heard how the major European roasters favored Costa Rican and Guatemala coffees in their blends and now I knew why. Once I had the opportunity to learn and try coffees from various regions of Costa Rica, I soon realized that since it was a small and such a hard bean it was perfect for blending. It soon become one of my favorites. Even today, I still blend a good Costa Rican (50%) with Kenya (50%) for my personal use at home. Some of my close friends know of my secret and have started using this formula in their blends and few even call it "Mohamed's blend". However, I have yet to see a cent of royalty!